Thursday, 24 October 2019
The Daily Bugle is a free daily newsletter from Full Circle Compliance, containing changes to export/import regulations (ATF, DOE/NRC, Customs, NISPOM, EAR, FACR/OFAC, FAR/DFARS, FTR/AES, HTSUS, and ITAR), plus news and events.

Subscribe
here
. Contact us for advertising
ITEMS FROM TODAY'S FEDERAL REGISTER
[No items of interest today.]
* * * * * * * * * * * * * * * * * * * *
OTHER GOVERNMENT SOURCES
2
.
Commerce/BIS: "A. Vlachos of Montreal, Canada, Denied Export Privileges for 7 Years for
AECA Violations"
* Respondent: Alexis Vlachos
* Charges: Violation of Section 38 of AECA
* Penalty:
Debarred for 7 Years from BIS Export Privileges
* Debarred: Yes.
* Summary:
"… BIS has received notice of Vlachos's conviction for violating Section 38 of the AECA, and pursuant to Section 766.25 of the Regulations, has provided notice and an oportunity for Vlachos to make a written submission to BIS. To date, BIS has not received a submission from Vlachos. … I have decided to deny Vlachos's export privileges under the Regulations for a period of seven years from the date of Vlachos's conviction. I have also decided to revoke any BIS-issued license in which Vlachos had an interest at the time of his conviction…"
* * * * * * * * * * * * * * * * * * * *
5. Commerce/Census Publishes Tips on How to Resolve AES Response Messages
(Source: Global Reach Blog, 23 Oct. 2019)
When a shipment is filed to the AES, a system response message is generated and indicates whether the shipment has been accepted or rejected. If the shipment is accepted, the AES filer receives an Internal Transaction Number (ITN) as confirmation. Though the shipment is accepted, the filer may still receive a Verify Message, Compliance Alert, Informational Message or Warning Message along with their ITN. However, if the shipment is rejected, a Fatal Error notification is received and must be corrected to receive a valid ITN.
To help you take the appropriate action for the different AES Response Messages, here are some tips on how to address the most frequent messages that were generated in AES for this month.
Fatal Error Response Code: 068
Narrative: SRN on File; Action Not Allowed
Severity: Fatal
Reason: The Shipment is not on file in AES, therefore the
requested action is not allowed.
Resolution: When the Shipment Filing Action Request Indicator is a Change, Replace, or X for Cancel, the Shipment Reference Number must exist on a previous filing in AES for the filer.
Verify the Shipment Filing Action Request Indicator and the Shipment Reference Number, correct the shipment and resubmit.
Response Code: 808
Narrative: Improbable Destination for Commodity
Severity: Verify
Reason: For the reported Schedule B/HTS Number, the Country of Destination Code is improbable.
Resolution: Certain products are highly unlikely to be exported to certain Countries of Destination based on historical data and industry input. This might indicate either a keying error or misclassification of the product.
Verify the Schedule B/HTS Number and Country of Destination Code, correct the shipment and resubmit (if necessary). If the information is verified correct as reported, no action is necessary.
It is important that AES filers correct Fatal Errors as soon as they are received in order to comply with the Foreign Trade Regulations. These errors must be corrected prior to export for shipments filed predeparture and as soon as possible for shipments filed postdeparture but not later than five calendar days after departure.
For more information or questions, contact the U.S. Census Bureau's Data Collection Branch.
Telephone: (800) 549-0595, select option 1 for AES
* * * * * * * * * * * * * * * * * * * *
6. Indian DGFT Clarifies Declaration of Correct HS Codes
(Source: Indian DGFT, 22 Oct. 2019)
The Indian Directorate General of Foreign Trade (DGFT) published Trade Notice No. 37/2019-20 and clarified that members of the trade and industry while filing Bill of Entry ("BoE") with the Customs Authorities need to be careful while mentioning HS Codes in the BoE, in case of imports and Shipping Bills in case of exports. They need to indicate the specific HS codes of items at 8 digit where they exist, instead of using the 'Others' category in a loose and inaccurate manner.
Any willful mis-declaration of HS Codes will be duly dealt with under Foreign Trade (Development & Regulation) Act, 1992.
* * * * * * * * * * * * * * * * * * * *


7.
WCO News: "Controlling Dual-Use Goods in a Transit Country: Lithuania's Experience"
Author: Rolandas Jurgaitis, Deputy Head of Customs Procedures, Customs
Department, Ministry of Finance and Enrika Naujoke, Director of the Customs Practitioners Association, Lithuania
Export controls are inherently challenging to implement, and no country has a perfect or fool-proof system. In this article, the Customs Department of Lithuania shares information about the specific challenges that the country is facing with dual-use goods, and the latest actions that have been taken to mitigate risks and improve compliance by trade operators.
Background
Since the early 1990s, a number of countries have participated in multilateral export control arrangements to produce guidelines for the control of strategic goods. These types of goods encompass weapons of mass destruction (WMD), conventional weapons, and related items involved in the development, production or use of such weapons and their delivery systems. Under these related items are goods with both civil and military applications called dual-use goods.
Under the various export control arrangements, lists have been compiled of dual-use materials, components, equipment, and technology that are subject to export controls. The European Union (EU) has consolidated these lists into one integrated dual-use list, the common EU list of controlled items, creating the most internationally adopted control list for these types of strategic commodities.
The EU regulation (No. 428/2009) requires dual-use items to be subject to effective control when they are exported from or transit through the Union, or are delivered to a third country as a result of brokering services provided by a broker resident or established in the Union.
Each entry on the list consists of a five-character Export Control Classification (ECN). The first character corresponds to the topical category for the item, the second corresponds to the type of item (for example, D = software), while the third character identifies the multilateral regime under which the item is controlled (for example, 0 = Wassenaar Arrangement). The remaining characters correspond to the description of the controlled item.
Sorting out which commodity is subject to export control requirements can be a cumbersome process for companies. To assist them, a correlation table between the ECN and TARIC, the EU's integrated tariff, has been developed. However, the relevance of correlations is so uneven, and not all correlations are equally indicative.
When the Customs tariff code indicates a correlation with the common EU list of controlled items, exporters must indicate whether the goods they are exporting are subject to export control or not by inserting special codes when filling in the Single Administrative Document (i.e. the EU Customs declaration): code X002 if goods are controlled, or code Y901 if goods are not controlled.
Moreover, the EU regulation also includes a "catch-all" clause for non-listed items, which could be used, for example, in a WMD programme (Article 4 of the EU regulation). An exporter must, therefore, notify the authorities if he is aware that dual-use items which he proposes to export, not listed in the list of controlled items, are intended, in their entirety or in part, for military end-use. The authority will then decide whether the export concerned should be subject to authorization.
Determining whether traders are compliant is a challenging task for Customs. Knowledge of both the Harmonized System (HS) and the ECN, as well as a solid analytical methodology, is necessary. In Lithuania, the situation is even more problematic due to the type of logistics operations carried out in the country.
A Member State of the EU located along the Baltic Sea, between East and West, Lithuania is facing specific challenges when it comes to the implementation of EU export control regulations, especially since the bloc implemented restrictive measures against Russia in 2014, which impose an export and import ban on trade in arms, establish an export ban for dual-use goods for military use or military end-users, and curtail access to certain sensitive technologies and services that can be used for oil production and exploration.
Lithuania's geographical location favoured the development of a strong logistics sector and the establishment of a broad network of 189 freight terminals and Customs warehouses, dealing mainly with goods in transit.
In 2018, compared to 358,076 imports and 366,298 exports, more than 1 million transit operations were processed by the Customs Department. These operations include goods placed under the EU common transit procedure, covered by the TIR Carnet, transhipped within, or directly re-exported from, a free zone, in temporary storage, and directly re-exported from a temporary storage facility.
Let's highlight here that, regarding dual-use goods, it has been agreed within the European Community (EC) that the term "transit" shall be understood to mean the "transport of non-Community dual-use goods, which are introduced into the Customs territory of the Community for transport through that area to a destination outside the Community."
The risk of non-compliance with dual-use goods regulations is high for several reasons:
When "Union goods" arrive at a freight terminal or in a warehouse for export, the terminal operator or the logistics company takes the role of a consignor/exporter in the export declaration, but often does not have sufficient information about the technical specifications of the goods and the circumstances of the sale and its parties to assess whether the exported commodity requires a permit or not. Moreover, a large number of players in the logistics market are new and have little or no knowledge of international controls relating to dual-use goods.
When "non-Union goods" arrive at a terminal or a warehouse for export, the consignment is placed under a Customs regime. For instance, temporary storage, transit, Customs warehousing, or re-export. Enforcing export control regulations is even more complex in such a case, as the compliance requirements must be understood and met by all the participants in an operation (forwarders, transportation companies, storage companies, Customs brokers, etc.). They must each hand over correct information and documents to the next party in the chain. In doing so lies the risk of mistakes occurring, especially when a re-sale of goods has taken place.
Non-Community dual-use goods that transit though the EC only, and as such through Lithuania, are usually not subject to a licence requirement. If some EU Member States require an authorization for all external transits of dual-use items, this is not the case in Lithuania where authorities may, instead, prohibit the transit of non-Union dual-use items where they have reasonable grounds for suspecting from intelligence or other sources that the items are or may be intended, in their entirety or in part, for the proliferation of WMD or of their means of delivery, or for military end-use in a country subject to an arms embargo.
The declarant does not have to select codes X002 or Y901 if the goods are in transit according to the EC definition given above. In fact, the transit procedure and the TIR Carnet do not even include this information.
Lithuanian Customs' enhanced focus on the issue has its roots in its participation in law enforcement operations organized by the WCO: COSMO (2014), and COSMO 2 (2018). The objectives of these operations were to detect and prevent illicit trafficking of strategic goods in international supply chains, and to assess the capacity of Customs administrations to enforce strategic goods regulations. To achieve this latter goal, all participants were asked to complete a national self-assessment of their national standard operating procedures and work practices in this area.
Based on these national self-assessments, it has become clear that the issue of strategic trade control enforcement was a new and challenging area for many WCO Members. Fortunately, the timing of the first COSMO operation coincided with the adoption by the EU of restrictive measures against Russia and enabled Lithuanian Customs to fully assess its capacity to enforce the measures.
Various areas requiring capacity enhancements were identified. These related to issues such as the lack of skills and insufficient technical/scientific knowledge of frontline officers to identify and detect dual-use goods. Although Lithuanian Customs does reach out to others, including local industries, that may have more knowledge, cooperation from foreign law enforcement entities and scientific institutions has not been very forthcoming.
To maintain the momentum and identify ways of improving the situation on the ground, Lithuanian Customs recently launched its own enforcement operation, code-named SPEK 2019, at the beginning of this year.
A three-stage approach was adopted for the operation, each focusing for a specific duration on one of the three commodities identified as problematic: anamide, glass and carbon fibre (duration 1 week); aluminium alloys (duration 1 week); and ultrafiltration membranes (duration 3 months).
A risk profile was built for each of the commodities, and Customs officials received training on how to handle the clearance process when the pre-determined risk profiles were identified by the risk engine. The "Product Footprint" method was applied, and the sequence of actions is shown in the illustrative graph.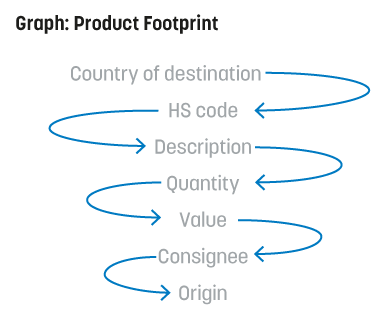 The results of Operation SPEK 2019 are as follows:
In five cases, the clearance procedure was stopped as the goods were listed as dual-use, but not declared as such, and an export authorization was requested for the procedure to take its course;
Out of the 10 freight terminals that were randomly selected and audited, two were found not to be in compliance during two separate operations – a dispute is ongoing with one of them, while the other paid the pecuniary (money) penalty stemming from the infringement;
The export of a non-listed item originating from an EU country was rejected.
The export that was rejected had to do with fibreglass mats, which were produced in another EU Member State and loaded for export in Lithuania. Fibreglass mats are not listed as dual-use goods in the EU regulation, but they can be used in certain military technologies and considered as falling under the catch-all clause for non-listed items.
In such cases, Customs takes into consideration the intended use of the product, the risk associated with the consignee, or the "sensitivity" of the destination country/region. In this specific case, as the consignee of the fibreglass mats was a company involved in the production of military equipment, Customs rejected the export and asked the consignor to present an export authorization.
Regarding SPEK 2019, the following observations were made:
A significant number of logistics companies have insufficient understanding of their non-proliferation obligations, do not have personnel responsible for compliance, and, as such, do not assess the risks in the manner required.
Some companies are knowingly involved in the export of dual-use goods, using Lithuania as a transit country in the hope that the authorities will not ask for an authorization.
Citizens of some sanctioned countries set up front companies in Lithuania, to hide the link with their country and contract logistics companies to act as the consignor/exporter in export declarations.
Enhancing Compliance and Cooperation
A key challenge to the enforcement of export controls in Lithuania and in many countries relates to outreach and raising awareness. Aware that the private sector needs assistance in identifying, managing and mitigating risks associated with dual-use trade controls and in ensuring compliance with relevant EU and national regulations, the European Commission (EC) released, in July 2019, a Recommendation on internal compliance programmes (ICP) for dual-use trade controls, under a Council Regulation.
The EC guidance focuses on the seven core elements for effective ICP:
Top-level management commitment to compliance.
Sufficient organizational, human and technical resources with well-defined responsibilities.
Staff is regularly trained and informed on the issue.
A process is established to evaluate whether or not a transaction involving dual-use items is subject to trade controls, and to determine the applicable processes and procedures.
ICP must be reviewed, tested and revised if proven necessary, and clear reporting procedures in place about the notification and escalation actions of employees when a suspected or known incident of non-compliance has occurred.
Proportionate, accurate and traceable recordkeeping of dual-use trade control related activities is essential, including for documents not required by law (e.g., an internal document describing the technical decision to classify an item).
Internal procedures must ensure the prevention of unauthorized access to or removal of dual-use items by employees, contractors, suppliers or visitors.
Each core element is further detailed by a section 'What is expected' that describes the objective(s) of each core element, and a section 'What are the steps involved?' that further specifies the actions and outlines possible solutions for developing or implementing compliance procedures. This document concludes with a set of helpful questions pertaining to a company's ICP, and a list of diversion risk indicators and "red flag" signs about suspicious enquiries or orders.
Lithuanian Customs provides advice to all parties that deal with export control regulations, in order to facilitate compliance with the EC Recommendation. Customs officials also regularly organize events on the subject or participate in events organized by associations or private sector training providers. In addition, they contribute to the monthly journal "Customs Law for Practitioners" issued by the private sector, to share their knowledge and shed light on specific regulations.
Feedback from participants in training events has been very positive. The main challenge, however, lies in educating employees and companies who show no interest in the issue and who do not want to attend seminars or follow online training courses. Unfortunately, for these types of actor
s, audits and penalties may be the result of their reluctant attitude.
* * * * * * * * * * * * * * * * * * * *

* * * * * * * * * * * * * * * * * * * *
9. FCC Presents "The ABC of FMS", 28 Nov in Bruchem, the Netherlands
This training course is specifically designed for compliance professionals and those in a similar role working for government agencies or companies (temporarily) obtaining U.S. export-controlled articles and technology procured through government-to-government Foreign Military Sales (FMS), and authorized by the Arms Export Control Act (AECA) (22 U.S.C. 2751, et. seq.).
The course will cover multiple topics relevant for organizations outside the U.S. working with U.S. export-controlled articles and technology procured through FMS, including: the U.S. regulatory framework, with a special focus on the AECA, key concepts and definitions, and practical compliance tips to ensure the proper handling of FMS-acquired articles and technology. Participants will receive a certification upon completion of the training.
Details
* What: The ABC of Foreign Military Sales (FMS)
* When: Thursday, 28 Nov 2019
– Welcome and Registration: 9.00 am – 9.30 am
– Training hours: 9.30 am – 4.00 pm
* Where: Full Circle Compliance, Landgoed Groenhoven, Dorpsstraat 6, Bruchem, the Netherlands
* This course can be followed in combination with "U.S. Export Controls: The International Traffic in Arms Regulations (ITAR) from a non-U.S. Perspective" (26 Nov 2019), and/or "U.S. Export Controls: The Export Administration Regulations (EAR) from a non-U.S. Perspective" (27 Nov 2019). Please, see the
event page
for our combo deals.
* * * * * * * * * * * * * * * * * * * *

EDITOR'S NOTES
10. Bartlett's Unfamiliar Quotations
* Sir
James Mackintosh
(24 Oct 1765 – 30 May 1832; was a Scottish judge, Whig politician, journalist, and historian. He was also trained as a physician.)
– "
It is right to be contented with what we have, never with what we are."
* * * * * * * * * * * * * * * * * * * *
The official versions of the following regulations are published annually in the U.S. Code of Federal Regulations (C.F.R.), but are updated as amended in the Federal Register. The latest amendments to applicable regulations are listed below.
*
DHS CUSTOMS REGULATIONS
:

19 CFR, Ch. 1, Pts. 0-199. Implemented by Dep't of Homeland Security, U.S. Customs & Border Protection.
– Last Amendment: 5 Apr 2019:
5 Apr 2019:
84 FR 13499-13513: Civil Monetary Penalty Adjustments for Inflation
– Last Amendment: 21 October 2019: FR 56117-56121: Restricting Additional Exports and Reexports to Cuba
– Last Amendment: 24 Apr 2018:
83 FR 17749-17751
: Foreign Trade Regulations (FTR): Clarification on the Collection and Confidentiality of Kimberley Process Certificates
– HTS codes that are not valid for AES are available
here
.
– The latest edition (22 Oct 2019) of Bartlett's Annotated FTR ("BAFTR"), by James E. Bartlett III, is available for download in Word format. The BAFTR is a 154-page Word document containing all FTR amendments, FTR Letters and Notices, a large Index, and approximately 250 footnotes containing case annotations, practice tips, Census/AES guidance, and explanations of the numerous errors contained in the official text. Subscribers receive revised copies in Microsoft Word every time the FTR is amended. The BAFTR is available by annual subscription from the Full Circle Compliance
website
. BITAR subscribers are entitled to a 25% discount on subscriptions to the BAFTR. Government employees (including military) and employees of universities are eligible for a 50% discount on both publications at
www.FullCircleCompiance.eu
.
*
DOE ASSISTANCE TO FOREIGN ATOMIC ENERGY ACTIVITIES
: 10 CFR Part 810; Implemented by Dep't of Energy, National Nuclear Security Administration, under the Atomic Energy Act of 1954.
– Last Amendment: 23 Feb 2015:
80 FR 9359
, comprehensive updating of regulations, updates the activities and technologies subject to specific authorization and DOE reporting requirements. This rule also identifies destinations with respect to which most assistance would be generally authorized and destinations that would require a specific authorization by the Secretary of Energy.
*
DOJ ATF ARMS IMPORT REGULATIONS: 27 CFR Part 447-Importation of Arms, Ammunition, and Implements of War. Implemented by Dep't of Justice, Bureau of Alcohol, Tobacco, Firearms & Explosives.
– Last Amendment: 30 Aug 2019: 84 FR 45652-45654, Adjustment of Controls for Lower Performing Radar and Continued Temporary Modification of Category XI of the United States Munitions List.
– The only available fully updated copy (latest edition: 30 August 2019) of the ITAR with all amendments is contained in Bartlett's Annotated ITAR ("BITAR"), by James E. Bartlett III.

The BITAR is a 371-page Word document containing all ITAR amendments to date

, plus a large Index, over 800 footnotes containing amendment histories, case annotations, practice tips, DDTC guidance, and explanations of errors in the official ITAR text. Subscribers receive updated copies of the BITAR in Word by email, usually revised within 24 hours after every ITAR amendment. The BITAR is available by annual subscription from the Full Circle Compliance

website

. BAFTR subscribers receive a $25 discount on subscriptions to the BITAR, please

contact us

to receive your discount code.
Implemented by Dep't of Treasury, Office of Foreign Assets Control.
– HTS codes for AES are available here.
– HTS codes that are not valid for AES are available here.
* * * * * * * * * * * * * * * * * * * *
Review last week's top Ex/Im stories in "Weekly Highlights of Daily Bugle Top Stories" posted here.
* * * * * * * * * * * * * * * * * * * *

*

The Ex/Im Daily Update is a publication of FCC Advisory B.V., compiled by: Editor, James E. Bartlett III; and Assistant Editor, Alexander Witt.
The Ex/Im Daily Update is emailed every business day to approximately 7,500 readers of changes to defense and high-tech trade laws and regulations.

We check the following sources daily: Federal Register, Congressional Record, Commerce/AES, Commerce/BIS, DHS/CBP, DOE/NRC, DOJ/ATF, DoD/DSS, DoD/DTSA, FAR/DFARS, State/DDTC, Treasury/OFAC, White House, and similar websites of Australia, Canada, U.K., and other countries and international organizations. Due to space limitations, we do not post Arms Sales notifications, Denied Party listings, or Customs AD/CVD items.
* RIGHTS & RESTRICTIONS: This email contains no proprietary, classified, or export-controlled information. All items are obtained from public sources or are published with permission of private contributors, and may be freely circulated without further permission, provided attribution is given to "The Export/Import Daily Bugle of (date)". Any further use of contributors' material, however, must comply with applicable copyright laws. If you would to submit material for inclusion in the The Export/Import Daily Update ("Daily Bugle"), please find instructions here.
* CAVEAT: The contents of this newsletter cannot be relied upon as legal or expert advice. Consult your own legal counsel or compliance specialists before taking actions based upon news items or opinions from this or other unofficial sources. If any U.S. federal tax issue is discussed in this communication, it was not intended or written by the author or sender for tax or legal advice, and cannot be used for the purpose of avoiding penalties under the Internal Revenue Code or promoting, marketing, or recommending to another party any transaction or tax-related matter.

* SUBSCRIPTIONS: Subscriptions are free. Subscribe by completing the request form on the Full Circle Compliance website.
* BACK ISSUES: An archive of Daily Bugle publications from 2005 to present is available HERE.
* TO UNSUBSCRIBE: Use the Safe Unsubscribe link below.

Copyright © 2019. All Rights Reserved.